Cats Cabinet advertises for this weekend's Winter Formal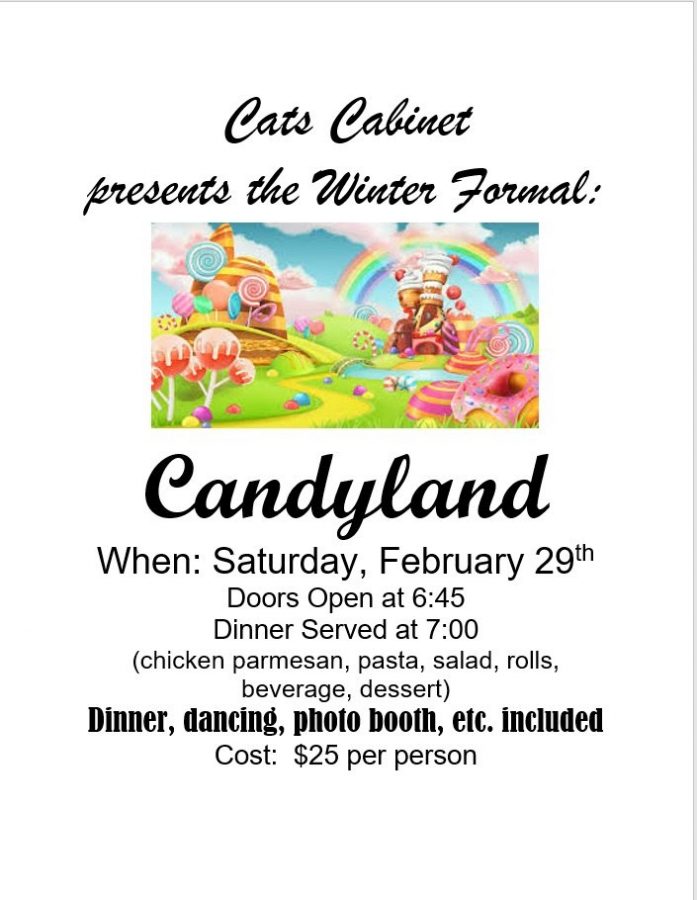 Mayfield's all-female club, Cats Cabinet, is putting on Winter Formal and has been advertising the dance for weeks now.
Junior McCartney Puhalla is a third-year member of Cats Cabinet who plans to attend the dance. She said, "All the girls come together at a meeting and make a bunch of posters and flyers to hang up around the school."
Puhalla feels that Cats Cabinet meetings can be a great bonding exercise to make new friends. She said, "What we do usually is have the girls who are most involved go around to their friend groups and different groups and advertise coming into the group and joining at the beginning of the year. Formal we advertise to the same groups; however, we do encourage all the girls to spread the word."
Second-year member of Cats Cabinet and sophomore Bella Gamerman is going to the dance as well. She said, "Every day on the announcements Cats Cabinet reminds everyone when the winter formal is. The club has also posted flyers on almost every single door and have also made posters with all the information."
Gamerman is not going with a date as she feels she can be more relaxed and herself with her friends. "Anytime winter formal is discussed on announcements, the announcers always exaggerate the fact that this is something to bring friends to and not really something you need to worry about bringing a date to and that is always how it's been," she said. 
Junior Cadie Kulnane has gone to the dance since her freshman year and also feels that Winter Formal is advertised more for students to go with friends. She said, "I think winter formal is more for groups of friends. To be honest, most relationships don't last until winter formal, you only see a few couples in the back."
Savanna Bresler, a junior who went her sophomore year, is going this year with a date and her friends. She said, "[It's advertised for] friends. The atmosphere isn't that romantic plus when they say come to the dance some advertised to just go with friends."
Bresler also feels that though it is advertised to everyone, the dance is more for girls. "I believe whether they mean to or not, it's more for girls because of the fact it's made by mostly girls. It's Candy Land themed and I don't really think any boy would have chosen that," she said.
Both Gamerman and Puhalla feel the dance is made for everyone and that the dance welcomes everyone. Gamerman said, "Considering that Cats Cabinet is an all-female club, people might assume that winter formal is just for girls but it definitely is not."
Puhalla feels the night should be spent having fun with friends, as that is also what she plans to do. She said, "We try to give it a very welcoming and fun environment. We work really hard on our decorations to make it look bubbly and fun so that everyone has a good time!"
Both Bresler and Kulnane are going with friends in hopes to have more fun. "I'm going with a group of friends because I don't get to hang out with them very often," said Kulnane.
Bresler went last year with a group of friends and has also gone to Homecoming three times. She said, "The environment is pretty chill when you are with your friends. It's such a small space it would be weird for it to have the Grind fest that happens at homecoming, but they play normal music."
Cats Cabinet does the dance set up and organizes the theme every year. Gamerman said, "Cats Cabinet comes up with the most creative ideas to make a fun and amazing night."
The dance starts at 7:00 pm on Saturday, Feb. 29.  The $25 ticket includes dinner from Mama Roberto's, a photo booth, and music.