Varsity baseball player competes in Arizona showcase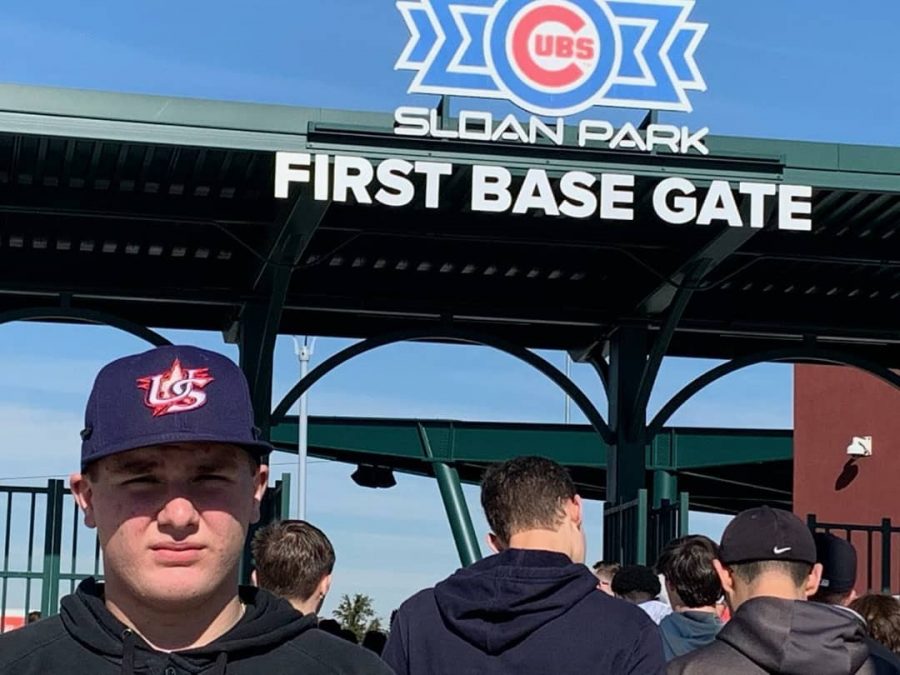 Varsity catcher Dylan Gamber took a trip to Arizona earlier this year to compete in an Under Armour baseball showcase to show off his skills to colleges and professional teams.
The showcase consisted of multiple days of practice, games, and film to better understand each player and what their capabilities are.
That seemed to be no match for Gamber, as his showcase was highlighted by a .400 batting average and perfect catching behind the dish. He allowed 0 passed balls while catching 3 games.
After his performances, Gamber believes he left a mark for the college scouts watching. "I feel like I performed well. They kept coming up to me after games; they told me I was doing well. I felt like I hit well and caught well," he said.
As Gamber was selected as an Under Armour PreSeason All-American, the event has some weight to it, and with that, comes exposure. He said, "Its main goal is just exposure. There were hundreds and hundreds and hundreds of college coaches there. There was also a scout from an MLB team."
Gamber is also thankful that he made it into the top 500 in the nation to get chosen for the event. "It was just a gift that I was in the top 500 so that they can expose the top kids to these scouts to get them to the next level," he said.
Gamber has given credit to his summer baseball team to help him prepare for events and showcases like this. "The team has prepared me immensely. I play up on the 18U team, so good pitching is something I see now, as they all throw up in the 80's and 90's. The team that I'm also on has pitchers who throw just as hard, so it helps to have guys who can help me see what's coming," he said.
Sophomore Aaron Conrad, a catcher in the Mayfield baseball program, thinks Gamber can make a name for himself in the future due to his preparation. "I think that Dylan is well known throughout Northeast Ohio through his summer team, and a little through Mayfield, but I think that next year will be a very telling year on making a name for colleges to see," Conrad said.
Junior Makayla DePinto, a friend of Gamber's, believes that his ability to push through obstacles is a great trait to his preparation. "He never stops even when life throws him curveballs, and that can really bring someone down in the dumps," DePinto said.
Since the event was held at Sloan Park, the Chicago Cubs spring training field, Gamber was excited to get down onto the field. "It was crazy. Playing on it is just so nice, it felt as if the field was bigger than the ones I've always played on. The stands, the lights, everything about it was crazy," he said.
Gamber has never traveled this far, but he thought Arizona was "awesome." He said, "There were more Dominican and Puerto Rican players that I would have never seen elsewhere, and they only spoke Spanish. It was some good baseball though, the best I've ever seen," he said.
However, one thing that Gamber took away from the event was to always keep a chip on your shoulder. Gamber said, "There's always someone better. I thought I was really good in our area. I'm considered one of the best, but when you go to a different city or country, it just humbles you a little bit."
Rich Gamber, Dylan's father, believes that his son can make it to the collegiate level, only if he stays humble. Rich said, "[Dylan] has to work hard and make sure his grades are there, and then as far as the other things, you just need to keep working hard. The minute he decides to stop working and take a break, somebody's gonna pass him," he said.
Gamber also believes that staying humble helps him in the long run. "I just have to stay humble because there's always somebody out there that isn't working as hard and they are better than you," he said.
Gamber and his Wildcat teammates begin their season on Monday, March 23.