After two tragic deaths, community learns about sudden cardiac arrest
Sudden cardiac arrest is the leading cause of death among young athletes, and in the last three years, it's affected students in the Mayfield community.  
Cory Bluffestone, a medical student at Ohio University, defines sudden cardiac arrest (SCA) as a situation when "the heart suddenly goes from a normal rhythm and goes to stopping. A lot of the time you will see something called VTAC, ventricular tachycardia, right before it shows a couple rhythm associated with cardiac arrest." 
SCA claimed the lives of Mayfield's Stevie Griesshammer on Feb. 28, 2018, and Brush's Alec Kornet on Feb. 14, 2017.  Griesshammer was a swimmer at Mayfield who passed away while practicing by himself in the pool, and Kornet was a hockey player who died during a practice.
Head swim coach Rick Balcam was Stevie's coach.  Balcam said, "Stevie's passing was extremely hard on me and I can't even express the pain I feel and will always feel. Nothing could ever prepare a coach for this type of tragedy."
Bluffestone, a Brush graduate of 2017, was Kornet's hockey teammate.  Bluffestone said of Kornet's sudden cardiac arrest, "It made me more of an advocate for screening and preventable care. It was pretty difficult because we grew up together and you never want to see someone you grew up with go through something like that."
A medical device that can be used to save the lives of people going into SCA is called an AED. Bluffestone said, "An AED is a defibrillator and what that does is deliver a shock to the body through two pads and it is meant to try to get the heart back to  a normal sinus rhythm, or the normal way it would be."
Balcam believes that coaches should be trained to use AEDs. He said, "I feel as though coaches need to be prepared for any situation that may come up during our supervision of the student-athlete. The AED could save a life, so why wouldn't a coach want to be prepared?"
A medical exam that is recommended for student-athletes to get is an EKG. Bluffestone said, "It measures the electrical activity of the heart, so it shows what chamber of the of the heart is active at what moment."
Balcam recommends that people get EKGs. He said, "Student-athletes should have an EKG along with a physical prior to the start of their season. If any heart issue could be detected at an early age, then it's worth it."
Athletic director Keith Leffler has learned quite a bit about EKGs and said Mayfield now offers a service through MCore Foundation that allows students to get EKGs. He said, "Sudden cardiac arrest is one of the leading causes of death among teenagers, which is why we have brought in the MCore Foundation which provides cardiac screenings at relatively low costs for students. A cardiac screening is not part of the required athletic physical in the state of Ohio, so it is a service that we could provide our families."
In honor of Alec Kornet, his mother Stephanie created the 4Alec foundation. She said, "What we do is bring awareness, education, and prevention to heart diseases or conditions that can lead to sudden cardiac arrest and donate AEDs."
Stephanie believes that EKGs are vital for student-athletes. She said, "One in 300 are walking around with an undiagnosed heart condition and an EKG can pick up 90% of them."
The 4Alec Foundation means a lot to Stephanie and she encourages people to learn more at www.4alec.org.  She said, "It means being able to save lives because we weren't aware of sudden cardiac arrest."
About the Contributor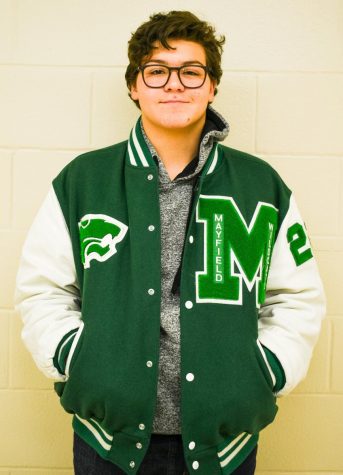 Kevin Bluffestone, Staff Writer
Senior Kevin Bluffestone is a writer and photographer for the Paw Print

Kevin moved to Mayfield in 8th grade and has enjoyed being here. Kevin was first...