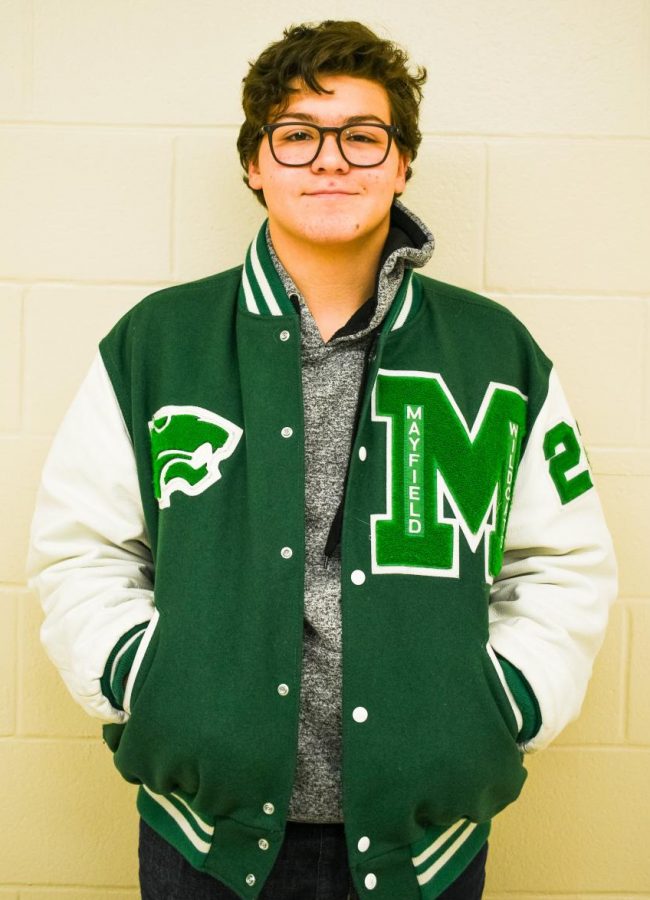 Junior Kevin Bluffestone is a writer and photographer for The Paw Print.
Kevin moved to Mayfield in 8th grade and has enjoyed being here. He is a member of the high school marching band and plans on being a squad leader for the next two years. He is also a member of the varsity hockey team. He hopes to attend college in either Kent or West Virginia for journalism or media. In his free time he likes to play hockey or play video games.
You can contact him on twitter @KBluffestone.
Kevin Bluffestone, Staff Writer
Sep 29, 2020

Gallery: Freshmen attend orientation, adjust to campus

(Story)

May 26, 2020

Q&A: Mayfield grad, restaurant owner helps community

(Story)

May 22, 2020

Band says farewell to seniors from distance

(Story/Media)

May 19, 2020

Governor's business shutdown hurts local restaurants

(Story/Media)

May 11, 2020

School announces curbside pick-up of locker materials

(Story)

Apr 28, 2020

Coronavirus closure: Movies worth watching

(Story)

Apr 24, 2020

Athletes face difficulties under quarantine

(Story)

Mar 09, 2020

After two tragic deaths, community learns about sudden cardiac arrest

(Story/Media)

Feb 21, 2020

Q&A: Bands prepare for upcoming concert

(Story)

Feb 14, 2020

Cheerleaders fundraise for St. Jude

(Story/Media)

Feb 07, 2020

Mustache for Cash participants enjoy raising money

(Story)

Jan 24, 2020

New counselor hired this week

(Story)

Jan 22, 2020

Local band books gigs

(Story)

Nov 19, 2019

Mama Roberto's exceeds expectations with food, atmosphere

(Story)