Band says farewell to seniors from distance
The Pride of Mayfield Marching Band gave their seniors one last farewell in the form of a parade on May 13.
Like everything else, the parade started with an idea. Band director Brad Treiber said, "The parade came to be through a brainstorm about doing something nice for the seniors at the end of the year. It was a collaboration of ideas from the directors and the booster parents."
Parents from the boosters and Treiber went to each senior's house and delivered gift bags to each and every one. Treiber said, "I enjoyed getting to see all the seniors and talk to them, even if it was from a distance. It was nice to be able to see them smile and react when they saw us."
Band booster president Stephanie Bluffestone is proud of the work that was done. She said, "This was the first time that the parade was done and the ability to see the seniors off, where we couldn't see them off during the last concert, which is what we normally do. So me, as the band booster president, I have now been able to do something that the past band presidents have done and make something special and unique to this class."
Senior Angelina Beukemann was left with conflicting feelings about the parade marking the end of her marching band career. She said, "On one hand I've met all my goals and did everything in the band that I hoped to achieve. And, on the other hand I wish I could do it over again every year because of how fun it was."
The seniors all had positive reactions to the gifts. Treiber said, "We had tons of fun and there were many kind and thankful comments from the students and their parents. The reactions and interactions ranged from silly and funny to even some tearful moments at times."
The little gift made Beukemann feel appreciated. She said, "Even though all the seniors got it, it made me feel like I was important."
Senior Michael Thurber was appreciative of the gift given to him by the band. He said "I thought it was really nice actually. It shows that [the boosters and the directors] feel bad about this whole situation that's going on and I appreciate it a lot."
About the Contributor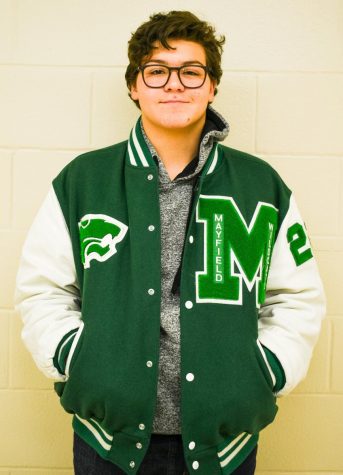 Kevin Bluffestone, Staff Writer
Senior Kevin Bluffestone is a writer and photographer for the Paw Print

Kevin moved to Mayfield in 8th grade and has enjoyed being here. Kevin was first...