Just One: Anselmo leads hockey team as lone senior
Team captain Gavin Anselmo took on the challenge of being the only senior on this year's hockey team.
Anselmo admits he's embraced the role of being the team's elder.  He said, "You have to take a good role and have good leadership with this team, especially in a losing season. You have to show you are a good leader and show you are a good role model for people to look up to when we are going downhill."
Anselmo described being the only senior as having its ups-and-downs.  He said, "You have to make friends with the underclassmen and you have no one to look up to, but as you get older, it's actually fun being a senior.  You embrace it more."
Assistant coach, Jacob Macula, has coached Anselmo for three years and appreciates how Anselmo plays the game. "The first time I met [Anselmo], he called himself 'the hitter' and was himself from day one.  [He] never tried to be anyone other than who he truly is," Macula said.
As the season's progressed and the coaches have tried to develop the team's young talent, Anselmo's had the opportunity to play with everyone on the team.  He said, "During the games, we try to let the new guys go out there and have fun, so they improve for the upcoming season."
Of all his teammates, Anselmo's most appreciated the bond he's created with junior Myles Haluszka.  "Most of the bond on the ice happens off the ice while in the locker room or playing video games, or even just going somewhere," Haluszka said. "Being on the ice with [Anselmo] is a blessing because the kid doesn't run out of energy; every shift that he has, he goes 100%."
Looking back on his four-year high school career, Anselmo still fondly remembers his first season.  He said, "My freshman year, we won the Baron Cup first round with an overtime game-winner.  It was electrifying."
As the 2021 season approaches its end, Anselmo admits he'll miss "everything" about high school hockey. He said these memories include "the fun and adrenaline during the games, the excitement of scoring, and being with teammates and making those memories that will last."
About the Writer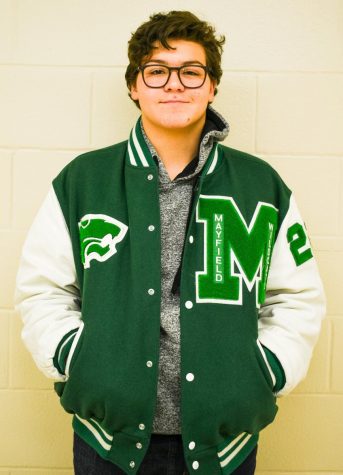 Kevin Bluffestone, Staff Writer
Senior Kevin Bluffestone is a writer and photographer for the Paw Print

Kevin moved to Mayfield in 8th grade and has enjoyed being here. Kevin was first...