Coronavirus closure: Games worth playing
Star Wars: Battlefront II excels in realism, authenticity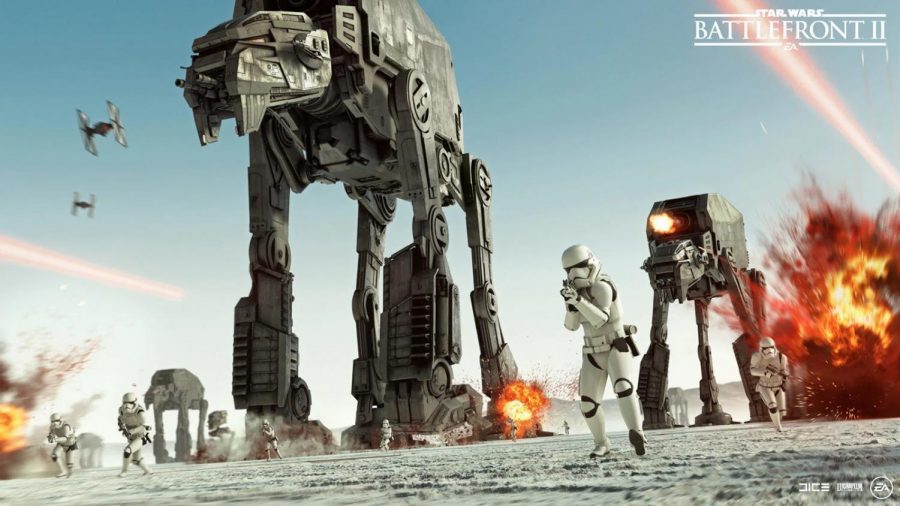 If you are a Star Wars fan and want an authentic and exciting Star Wars game to play during the quarantine, well, "Star Wars: Battlefront II" is just for you, young Padawan.
Available on all platforms, the tactical shooter provides players with a variety of different game modes and famous Star Wars characters to play as. You can play as characters like Yoda, Anakin Skywalker, heck, even a Clone Commando.
You are also able to play as villains like Darth Vader, Emperor Palpatine, and even Kylo Ren – with his jagged lightsaber.
Sophomore Manu Dhillon, an avid "Star Wars: Battlefront II player," loves the ability to play with all of the characters he grew up watching, including Luke Skywalker. Dhillon said, "[Skywalker] has the force push ability, which enables him to push enemies very hastily wherever he wants. His lightsaber is the most overpowered weapon he has, so playing as him feels amazing."
The multiplayer in the game is the standout. Having played it myself, the game throws you right into the fight with no hesitation. Even though I started as a level one player, it's very easy to play like a level 50 player. The game's fast-paced play makes the games you play feel chaotic and exhilarating with fun and steady alertness.
You have the ability to modify four different types of loadouts for your specific faction, depending on the map you play. The loadouts are Assault, Heavy, Officer, and Specialist, and they each offer various different weapons and ability tools for each faction. You can play for the Galactic Empire, Resistance, Rebel Alliance, First Order, and many other factions.
While being able to modify your weapons, you are also able to upgrade and unlock boost cards and ability cards to help your character out on the battlefield. Each class has various different ability cards, but the boost cards throughout the classes are relatively similar.
The only downside of the modification is the limited amount of weapons from which you are able to choose. Each class only has five different weapons you can choose from, and the only way to unlock those weapons, is to play the game and level your class up. It's not a big deal for me, but for the people who want to get right into the action, they might be a bit annoyed.
The multiplayer offers various different modes to play in for different play styles. If you are a fast-paced player and love close-quarters combat, then "Blast" is the game mode for you. If you want to play with a variety of Star Wars characters, then "Heroes vs. Villains" is the game mode for you. With these offerings, it makes the game still feel fresh, since the game has been out for three years.
Dhillon usually has a rough time picking modes to play, but his favorite is "Heroes vs. Villains." He said, "Heroes vs. Villains is my favorite mode because I am able to choose my favorite hero and fight alongside players from around the world."
The campaign was the last thing that I got to, and it's sure of a quality campaign. You play as an Imperial Commander, named Iden Versio, as she and her team (the Inferno Squad) fight to save the Galactic Empire and its potential ahead of it. The campaign, according to The Verge, takes place between Return of the Jedi and The Force Awakens.
As you progress through the campaign, you fight in intense, large battles on famous Star Wars sites, from Hoth to Tatooine, even the Death Star. Most of the time, these battles are 20 vs. 20, and the team with 100 eliminations wins the battle.
However, if you are familiar with games like this, the campaign will feel very easy, so feel free to crank up the difficulty.
Since the first Battlefront did not have a campaign, it was long needed that this version had one, and it's delivering promise for realism and detail sure hit home for myself and the many other Star Wars fans who are playing.
After playing through both the Multiplayer and Campaign, it's finally time to give "Star Wars: Battlefront II" a score, and for this game, it receives 4.5 out of 5 lightsabers. The game's attention to detail, quality campaign, and fast-paced multiplayer option make "Star Wars: Battlefront II" feel like more of a complete game than its first release.