DMP classes adjust to making fresh content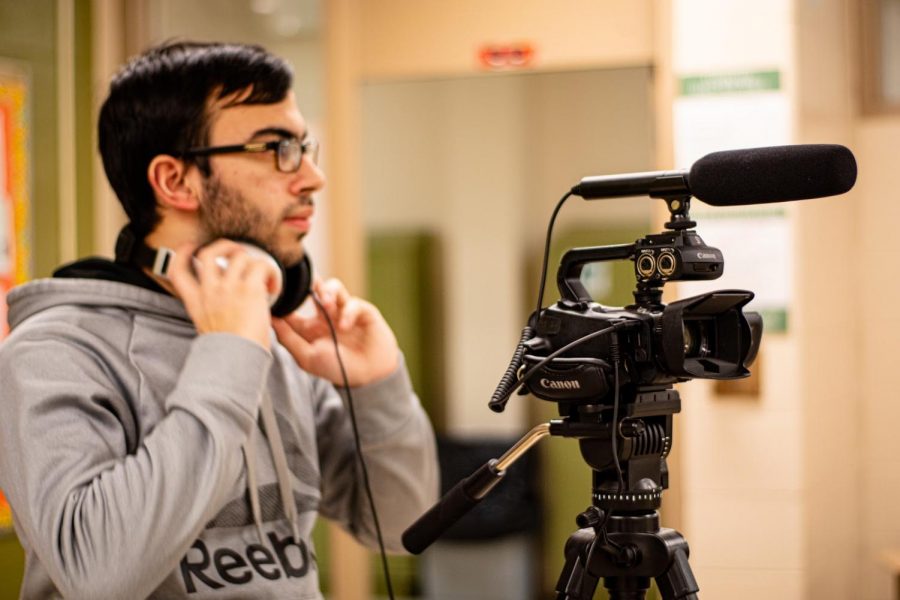 With the recent elongation of the statewide stay-at-home order, the Digital Media Productions class finds it tougher to produce new content.
As the class is used to making content with Macbooks and complex cameras, the scenarios and ideas that they come up with now are only from the safety of their homes.
Mike Bokovitz, the instructor of the class, believes his students are capable of creating new content despite the setbacks they've faced. "Even though the kids can't use the Macbooks and microphones, the quality will still be enough for us to adjust to making content in our homes," he said.
Monti Yoo, a sophomore in the Advanced DMP class, believes creating content at home will be challenging. "The difficult part is only creating by yourself, even though we can talk online. It's a lot different than creating in the moment," he said.
Indy Dhillon, a senior in the Advanced class, believes that keeping that spark is all about looking for inspiration. "There are a lot of viral trends on social media that can be used for videos on our Instagram or YouTube channel. However, I wouldn't just straight up copy it," he said.
Bokovitz explained what the kids would be able to use at home, varying what technology they had. "If the kids have Macbooks at home, they can obviously use Final Cut, but iMovie can work well on iPhones. Android users have lots of options, but FilmoraGo is probably the best out there."
Usually, Bokovitz has weekly Zoom meetings with all of his classes to check up on his students and see how they're doing, and most of them are doing all right according to him. "They all have a lot of motivation to get stuff done, which is awesome to hear," he said.
With the students being as motivated as they were at the start of the year, the content still can hold up with the content that's created inside the school, according to Bokovitz. "We might not be as flashy as we were in the classroom, but the standards will be just as strong as if the content was created there," he said.
However, a Wildcat Weekly episode could still be made even from their homes. "I've met with the kids on this, and we're going to give it a shot and plan everything out for one. The goal is to get it up for next week," Bokovitz said.
This year's final episode would have been the 200th episode of Wildcat Weekly, and the Advanced DMP class would have had fun plans for it, according to Bokovitz.
"We would have recreated the old segments that the creators of Wildcat Weekly did. We would have brought them back to do a crazy and funny episode with the Advanced kids. Most of them were committed to doing it, so it would have been an all-out blast," he said.
As these times are unprecedented and shocking, many of these students can't wait to get back into doing the things they love with the class.
"These kids have such a high drive right now, that if this was an all-year dilemma, I don't know how they would react," Bokovitz said.