Social distancing affects students' mental health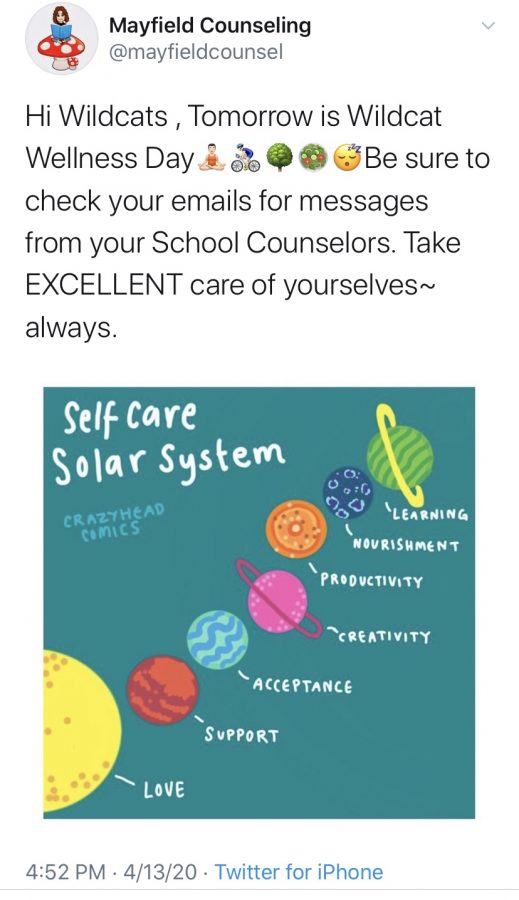 During this time of social distancing, students say they are struggling with their mental health.
Guidance counselor Mia Bourdakos has been trying to help students get through this tough time. She said, "With more 'free time' on their hands and in their heads, kids (and adults too) tend to ruminate and overthink and this can lead to spiraling for some."
Rachel McBride, another guidance counselor, has also been checking-in with students and their families during this time. She said, "Normal anxiety, fears, and stressors are heightened and many may feel trapped (mentally and physically) and may not know how to cope with what they're feeling."
Since schools have switched to online, many sports seasons and after school activities have been cancelled. "Students who enjoy school and all that comes along with this –teacher interaction, peers, structure, friends, sports, clubs, sense of stability etc., are having a hard time due to all of this being taken away," said Bourdakos.
Junior Raina Hubbard has been relying on technology to contact friends during the quarantine. She said, "Being away from [friends] and other people is really not good for me. It's very lonely."
Paris Bunch, a freshman, feels that, mentally, some days are better than others. She said, "[The quarantine is] testing my patience and inner thoughts in the back of my mind come up more often."
McBride feels this is a difficult time since this is the first time most have ever had to social distance. "I imagine students, like myself and many others, are missing social interaction they didn't even realize they took for granted. A lot of us like our alone time, but even those people can start to feel isolated and miss interactions, laughter and the feeling of support and security," she said.
Soft skills are important skills that humans learn like social cues, and Bourdakos feels those are being affected by social distancing. She said, "Being with their peers is the norm and this is hard to do via electronic anything. Also, and more to the hidden agenda of life, you just do not pick up the cues on how to act in a social situation if you do not have the chance to be in one."
In order to help students and their families during quarantine, Mayfield's staff has been reaching out to try and help. Bourdakos said, "We had a Wellness Day on Tuesday and we collectively came up with some tips on how to stay healthy during this crazy time. Creating a schedule, sticking to a bedtime, wake up time, and regular times to eat and snack is huge."
In addition to Wellness Day, counselors have been reaching out daily to help. "We are also reaching out to families and students daily and making sure they are ok, offering outside resources if they are not and also hosting Zoom sessions to check in on kids, discuss topics like wellness, routines, college questions, etc.," said McBride.
Staff members, other than guidance counselors, have also been checking-in on students like Hubbard. Hubbard said, "I really do think that Mayfield is doing a good job at supporting students. For me, they're checking up on me, making sure I'm okay when I don't turn in assignments, and really make me feel as though they're taking my health into account."
Bunch has been trying her own ways to help her mental health. She said, "I listen to music from when I wake up till I go to sleep. Also writing or even just thinking out loud- [it's] very therapeutic."
Similarly, Hubbard has used music as a form of therapy. She said, "To improve my mental health during this period, I'm usually listening or creating music, or creating an art piece, or learning a new dance. It's been working for the most part."
During the quarantine, students, parents, and faculty are all mentally adjusting to this new way of life. McBride said, "If you are struggling with something, try to find someone that you can talk to, a parent, a sibling, a relative, a teacher, a counselor, a mental health professional, a coach. There are resources out there and you are NOT alone in feeling the way you do."