Lyndhurst business seeks to help clients affected by COVID-19
As businesses are starting to shut down because of the inability to receive income from their sales, some businesses, like Wellspring Financial Advisors in Lyndhurst, are starting to step in and help.
Michael Novak, the president and managing director of Wellspring, works with government programs to help his clients solve the economic problems they have been faced with.
"The SBA (Small Business Administration) has filed a lot of loans just for small businesses to help them keep afloat. A lot of these businesses have employees who live paycheck to paycheck, so being able to work with them and help is truly amazing," Novak said.
With offices and business spaces being closed, Wellspring employees have taken advantage of the software they possess, like Zoom and GoToMeeting. They use these applications to further reach out to their clients and employees to make sure everyone is doing okay.
Novak is grateful that the firm is able to still work the same way. He said, "We are very fortunate with the way that our business is modeled. Being a service business, we are able to communicate with our clients through phone calls, video calls, emails, you name it".
Novak, at first, believed that the video-calling was challenging. "Some of us didn't have the technology set up for it and we didn't know how to use it. The video calls have actually helped us with our long-distance clients. We are able to see them face to face and interact with them through these video calls," he said.
As in-person interaction is deemed unnecessary, according to our governor, some of the employees and directors miss interacting with their colleagues.
Mac McLaughlin, an employee at Wellspring, misses the ease of access he had in the office space. "Being able to walk 10 feet and knock on the door of one of my colleagues to work through things is something we have to, unfortunately, give up for now. Acknowledging that we can share screens through these calls, it feels different than having actual face-to-face conversations," he said.
Laura Capuozzo, the director of operations at Wellspring, believes the camaraderie with the staff has been lost because of the inability to interact physically. "We've lost the physical socialization between everyone. We're trying to keep that going with Zoom and GoToMeeting to just check up on each other and joke around," she said.
One of their employees, who is a Marine reservist, was just called into duty in New York to help deal with the infected on the U.S.N.S Comfort. He is expected to be stationed there between 80 days to a whole year.
Capuozzo, and the rest of the company, wishes him luck on his unexpected departure. "It's a big life change for him. I give him all the credit in the world for going and protecting the people of the country. We all wish him the best of luck and health," she said.
With the COVID-19 pandemic affecting businesses, Wellspring employees say they're committed to helping those who are struggling. "Helping everybody through the application process and working through it with them is the biggest thing we've done," said Novak.
Wellspring Financial Advisors is located in Landerbrook. To learn more, visit https://www.wellspringadvisorsllc.com or call (216) 367-0680.
About the Writer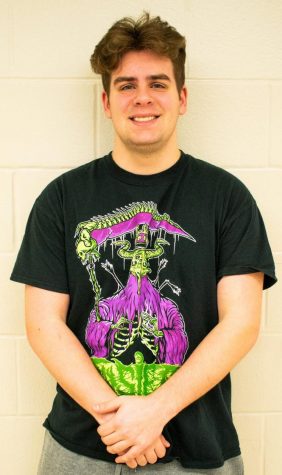 Chris Capuozzo, Staff Writer/Photographer
Chris Capuozzo is a senior staff writer and photographer on The Paw Print.

He has attended Mayfield since the 7th grade and has potentially found his...