OPINION: Browns seize top talent in 2020 draft
Now that the 2020 NFL draft has concluded, the Cleveland Browns have added key additions to their previously weak offensive line and defensive secondary.
The Browns had seven picks in the draft, and they capitalized on most of them.
They opened up their picks with Alabama OT Jedrick Wills Jr., the third-ranked offensive linemen on Mel Kiper's board.
Wills, a 6"5', 320-pound beast, shredded SEC opponents at his time in Alabama. He started 28 consecutive games with the Crimson Tide and only allowed 1 sack in his 2018 season. Wills will be one of the anchors protecting Baker Mayfield next season along with newly-acquired Pro Bowl tackle Jack Conklin.
Junior and offensive lineman Domenic Amato believes Wills fills the left tackle spot the Browns have needed since the departure of future Hall of Famer Joe Thomas.
"I feel they hit it home right in the first round with the selection of Jedrick Wills Jr. Last year, we had some issues upfront, and adding him to the left tackle position would be key in winning at the line of scrimmage," he said.
Wills' key fundamentals are his foundation to becoming one of the top prospects in the draft, and according to Jordan Reid of The Draft Network, those fundamentals turn Wills into a monster.
"Wills has breath-taking blocks on film and has others that make you sit up in your chair with how much movement he's able to generate. Other-worldly strength levels allow him to engulf and embarrass some defenders on the edge. He not only possesses a powerful initial punch, but he has the strength and longevity in order to continue with it throughout the duration of reps," Reid said.
I believe Wills will be up there with some of the best in the league at the start of the new season. He has the strength, mobility, and size to make every defender look silly.
The Browns also opened up the second round with a great pick in Grant Delpit, and for the weak secondary, it was a pick that was backed up with analytics.
Delpit, coming out of LSU, was a household name during his 2018 season, racking up 60 tackles, 3.5 for loss, one interception, and eight pass breakups while earning unanimous first team All-American honors and All-SEC honors. His 2019 season was a weaker version of his 2018 breakout season, but still showed his greatness throughout the course of the year.
Senior Ryan Stella, an avid NFL follower and Browns fan, believed that Delpit should have been picked earlier by other teams. "I'm extremely happy that he fell to the second round so that we were able to draft him. He's a 6'3 safety who can do virtually anything, whether it's zone or man coverage, just a really good all-around player.
Since safety Damarious Randall left Cleveland to sign with the Las Vegas Raiders, we needed a safety who can be just as good as a ball hawk as Randall was. Delpit is just as good as Randall and could be even better.
However, I don't believe he will be the leader that Randall was at that position, and according to Lance Zierlein of NFL.com, Delpit doesn't have that "alpha dog" attitude, but he can be a great versatile safety at that position.
One of the last highlights of the draft was fourth-round pick Harrison Bryant out of Florida Atlantic. The tight end was the 2019 John Mackey award winner for the nation's top tight end, and put up a 1,000-yard season with only 65 catches.
Bryant's agility and quickness is what sets him apart from every other tight end in the draft, and with that ability, he's able to go anywhere on the field.
There's a catch to this though, as Bryant will have time to develop behind newly acquired Pro Bowl TE Austin Hooper and TE David Njoku, coming back from injury.
With the other additions of Michigan WR Donovan Peoples-Jones, LSU LB Jacob Phillps, Washington C Nick Harris, and Missouri DT Jordan Elliott, the Browns sure added depth and versatility to their roster for the foreseeable future.
About the Writer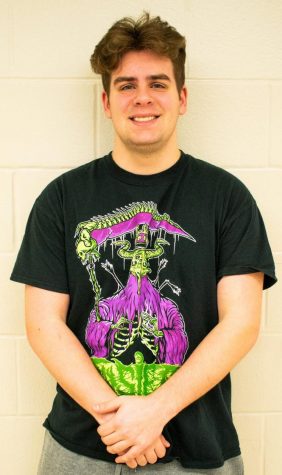 Chris Capuozzo, Staff Writer/Photographer
Chris Capuozzo is a senior staff writer and photographer on The Paw Print.

He has attended Mayfield since the 7th grade and has potentially found his...