New superintendent envisions a better Mayfield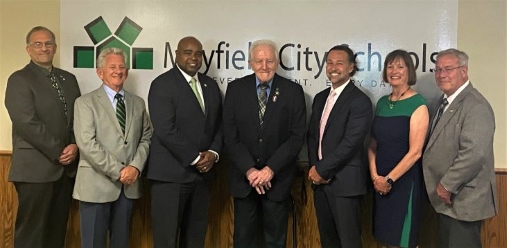 Newly chosen superintendent Dr. Michael Barnes returned to Mayfield City Schools on July 1 and hopes to create more accomplishments with his new position.
The former superintendent of Lakewood City School District, Dr. Barnes is in his 28th year of education and said he's worked in various roles. "I've been a substitute teacher, a paraprofessional, a teacher. I've also been an athletic director, a principal, and I've worked at Central Office in several roles. I also served as an assistant superintendent as well as now, a superintendent," he said.
Dr. Barnes has made it a priority to personalize instruction for all students. "By really trying to eliminate the barrier between time and learning and allow students to have voice and choice over their own learning – agency over their own learning – I think this is where the opportunities are moving forward. I think empowering staff and working with them to continue to build their capacity to support those are tremendous opportunities as well," he said.
Principal Jeff Legan worked with Dr. Barnes while he was a social studies teacher at the high school and saw the impact he had on his students. "We pride ourselves on relationships and the relationships that [Dr. Barnes] has built with his former students, former players, and former parents, it's really special. Kids come back and they know Dr. Barnes and want to go talk to him," Legan said.
Dr. Barnes plans to continue building these relationships with students and personalize their education to fit their academic needs. "By allowing students to have a voice and choice over their own learning, I think this is where the opportunities are moving forward," Dr. Barnes said.
Because of Dr. Barnes' experiences at Mayfield, Legan believes Dr. Barnes already understands the Mayfield way. "Sometimes when you have a different superintendent come in, they might have a different vision. Dr. Barnes has been a part of Mayfield's vision for at least the last 10 years. He fully believes and knows that not all two children are the same and that we as educators have to personalize experiences to meet students' specific needs," Legan said.
Athletic director Keith Leffler worked with Dr. Barnes in the past when he helped the high school renovate the athletic facilities. Leffler said, "[Dr. Barnes] was a big part of the planning and the construction of Wildcat Park which tied into the big renovation project on the main building. This is significant because we went from having terrible athletic venues to having some of the best in the area."
Because of Dr. Barnes' many experiences, Leffler is pleased that Dr. Barnes was named the superintendent. He said, "I hope that [Dr. Barnes] continues to propel Mayfield to the forefront in athletic and academic endeavors."
Dr. Barnes said his position is about doing what's best for kids. He said, "[Kids] deserve our very best. If we continue to put students first in all the decisions that we make, that is the most solid and effective foundation that one could have as a person who has made it their lifetime commitment to work with children."