Homecoming kicks off with parade, bonfire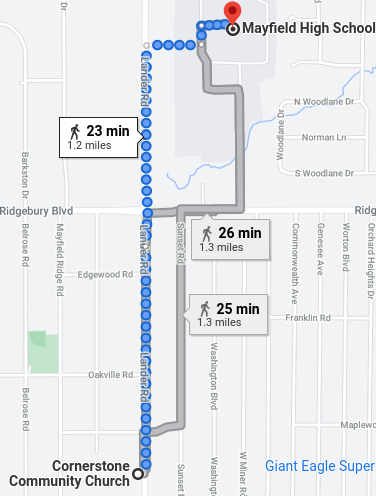 The first events of homecoming week are the parade and bonfire, and they'll take place on Tuesday, Oct. 5.
The parade starts at 6:30 P.M. and will travel north on Lander Road from Cornerstone Community Church to the high school. Refer to the pictured map on the right. The parade will last just over one mile.
Senior class co-adviser Chris Torda confirmed that many high schoolers have the opportunity to be in the parade. "Anyone involved in a club or sport in the high school can be part of this parade," Torda said.
The football, volleyball, and cheerleading teams always make appearances. The Pride of Mayfield will march down Lander Road as well. Torda said, "As long as your club advisor approves, you can be part of it."
Clubs and teams that choose to participate will have the opportunity to decorate their vehicles, which are characterized as floats. However, most will choose to ride in a pickup truck without much elaborate design. Torda said, "When we say floats, that usually means pickup trucks that are decorated with signs and streamers, but some years, some groups go all out and get more elaborate."
Freshman Alayna Bozeman, a member of the cheerleading team, said she's eager to participate in her first high school event. "I'm excited to be with my friends to do something that brings the community together," she said.
Immediately after the parade, the bonfire will begin on the football practice field near the Wildcat Sport & Fitness entrance. Torda said. "All students are welcome to the bonfire."
At the bonfire, Torda said there will be a short program for all who attend. "We recognize the Sweet 16, the cheerleaders do a cheer and the Funk, and the Senior Class Spirit Captains will do a short pep rally to get everyone excited for Friday's football game," Torda said.
The festivities continue on Wednesday with the induction of new high school Hall of Fame members, the Homecoming Assembly on Thursday, the football game on Friday, and the dance on Saturday.