The Option space starts student leadership team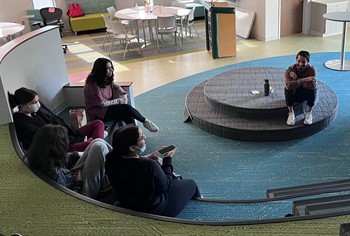 The Option space is in the process of creating a student leadership team.
Team founder and science teacher Matt Lucas hopes to bring students and staff together through this team. He said, "The student leadership team has two primary goals: communicate the wants, needs, and ideas of Option students with staff; and empower Option students to get involved and take ownership in The Option program and Option space by leading and serving on committees."
The Option team will consist of seven committees to fit all of the space's needs. Lucas said, "The committees for The Option are the cleanliness committee, spirit committee, celebrations committee, community committee, academic success or tutoring committee, survey committee, and an executive committee which runs the whole team and has officer roles."
Senior team member Hannah Peterson is excited about the opportunities the team will open up for her around The Option space. "This team is giving a chance to myself and other students to take charge in their learning but also in the space where their learning is conducted. It also gives students the opportunity to get experience in leadership roles," she said.
Lucas believes that by starting this Option team, the publicity for the space will increase and bring the program to the next level. He said, "The Option staff discussed the need for students to be involved in the decision-making process and take ownership of The Option program."
Junior team member Eddie Svoboda is curious as to what the team will do this year and hopes to make an impact this school year. "I feel like it will keep things in order more and hopefully students will look up to the leader team and have us be the standard in The Option so that kids will hopefully do the same thing as us," he said.
Peterson is grateful that everyone is back in The Option space this year. She said, "I really want to celebrate all of the amazing things that the students accomplish in The Option space, so hopefully coming up with ways to recognize students that are doing an amazing job and taking their learning into their own hands."
Svoboda thinks that this team will help him with future endeavors both inside and outside of school. "This team will help me gain individuality for next year and make me more in tune with what my senior year will be like," he said.
Lucas is grateful that he is able to create such a unique experience for his students and make a change in the Mayfield community. He said, "Students participating in The Option program have a unique experience that most students around the country do not have. Having a strong community will allow students to share their successes and failures with one another and collaborate to make The Option program the best that it can be."