Kallmeyer family celebrates Hanukkah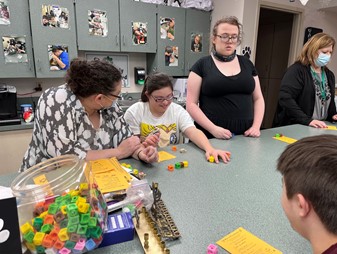 During this holiday season, Speech-Language Pathologist Danielle Kallmeyer helps people learn more about the faith and traditions of Hanukkah.
Kallmeyer has a holiday tradition with her family called Tzedakah, which means voluntary charity, as they donate money to the less fortunate. "We don't want it to just be about receiving but also giving," she said.
Kallmeyer's son Matthew, a senior, appreciates that his mother has given him the opportunity to give back to the community. He said, "I think learning these values from a young age has helped me become more involved."
Even though Kallmeyer's older son, Zach, is away at college during this holiday season, she gives him the chance to celebrate with them away from home. "We did the first night of candles, open presents, and then we wrapped up gifts together and sent candles and the gifts back to school, and he's been FaceTiming us together to light candles and open presents," she said.
Matthew enjoys the sacred time he spends with his family. He said, "I also really enjoy lighting the candles with my family. It's always a fun tradition to say the prayers together."
At the high school, Kallmeyer has helped intervention specialist Kathleen Morgan's class learn the Jewish holiday through playing the dreidel game.
With Morgan's students, Kallmeyer hosted activities that help with core subjects to better the student's understanding. "Even though I'm not the [occupational therapist], it helps with fine motor skills and spinning of the dreidel. There is math involved trying to put tokens in or out, so there are some academic pieces to it as well," she said.
Morgan has seen how Kallmeyer expresses her kindness during Hanukkah with her students. Morgan said, "Right now, we are all doing the Toys for Tots and that is something that she has talked about and helped us with; we have brought a ton of toys down here. She said that during Hanukkah she does the same thing. She gives loved ones little gifts or little services to help them."
Morgan was grateful that her students were able to learn more about the world. "It was so cool that she knew so much about Hanukkah and for most of them, it's a holiday and tradition that they don't participate in but they got to do as much as they could in here," Morgan said.
Although Kallmeyer takes the time to teach these students about the holiday, it always roots back to her family; she is joyous to give her children this Jewish experience. Kallmeyer said, "We are lucky that our boys have always been people who want to give back to others. I think that we just want to instill in them that this is part of life, part of being Jewish, part of being a good person regardless of being Jewish: to give and not just receive."