Cheer squad hosts craft fair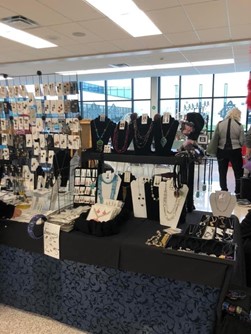 On Dec. 5, the varsity cheerleaders hosted their first annual craft/vendor fair in the cafeteria.
Cheer mom Dawn Urban suggested this idea to members of the Athletic Boosters when thinking of creative ways to raise money. She said, "We felt it was something that hasn't been done in a while and thought it would be a nice opportunity to raise money and support local vendors."
Urban, who organized the event, wanted customers to see the cafeteria filled with variety, from freeze-dried candies to personalized tumbler mugs. She said, "We wanted a variety of vendors to offer several options for people who came to shop since it would be a great opportunity to buy unique gifts for the holidays," she said.
Special education teacher Kristen Fatica also participated as one of the fair vendors for her own small business. Fatica said, "A cheer mom knew I made lava bead bracelets on the side and was wondering if I would be interested in participating in their first annual craft show fundraiser. I definitely was! This fair was well received by our community, and I believe everyone did very well."
Urban's younger daughter and varsity cheerleader, Lindsey, appreciated the time and dedication put into the products. She said, "One of my favorite vendors made little trinkets and decorations out of rocks and shells. They were beautiful and I bought one for my grandma since she loves rocks."
Not only were the crafts made by hand, but some were made by Mayfield teachers, including Lisa Francetic. "Creekside Candles by Lisa was so nice and answered questions knowledgeably. Her candles smelled amazing!" Urban said.
While Fatica worked, she also found herself shopping at other tables and considering new hobbies. She said, "The event made me so intrigued with all of the different vendors shown. I couldn't help but to learn more about them and indulge in something new!"
With Urban being a crafter herself ‒ selling chocolates and self-care products ‒ this fair helped her daughter Lindsey realize the different types of hobbies people can have. "Both my mom and the fair have taught me how creative people can be and how many people can have talents and interests outside of their profession," Lindsey said.
Urban was pleased with the event and is willing to help again next year. She said, "It's a nice fundraiser to continue in future years."