Stir Crazy provides stellar experience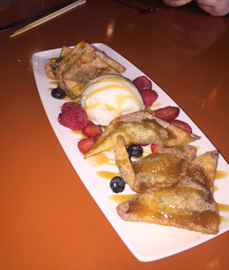 Alexa Passafiume, Guest Writer
December 13, 2016
When first approaching the doors, an amazing aroma makes mouths water. Greeting with a smile, the host seats customers at a table that transports them to another country.
Stir Crazy offers a unique take on traditional Asian cuisine and culture.
The restaurant decor gives the overall atmosphere a genuine and authentic feeling. The walls are covered in Chinese and Japanese characters as well as a mural of scenes of Asia. The dimly lit lanterns above each booth pay tribute to a well-known feature of Asian culture.
Stir Crazy's decor even recognizes some common factors of Asian culture such as dragons and Buddha. Paying attention to the major and minor details really displays how much the franchise cares.
Not only was the atmosphere very positive, but the service quality brought little to no complaints. We had a party of three and were seated upon walking in the restaurant with no reservation. However, we attended on a Monday afternoon, which could have caused the lack of crowd inside the restaurant.
Our server greeted us with a smile and truly showed her experience in the workplace. She remembered all of our orders with no problem and constantly checked in on us throughout our stay. She exceeded our expectations and made everything easy on us.
The menu offers a wide variety of choices for meals. It features meals that come prepared and ready to order, or there is the option of the "Market Bar." The Market Bar allows for the customer to choose every ingredient that goes in their meal. Customers place their order of protein and rice or noodles with the server and then go through a buffet style line and choose the vegetables and sauces.
One of the most fascinating parts of choosing the market bar option is that once you complete your choices in your dish, you bring your dish to one of the chefs and watch them make your meal. The flames rise and the aroma takes over, and waiting for your meal feels like a lifetime. But, once the chef finishes cooking, you can grab your plate and head back to your table.
With the chefs, some of them are friendlier than others. Some can make your experience much greater by cracking jokes or even just offering a smile. However, if your chef is not as outgoing, they don't add much to your experience besides handing you your delicious meal.
In terms of the food, everything was cooked perfectly. The chicken was tender and added a nice balance to the meal. The vegetables were fresh and created different textures in the dish. The combination of the popular teriyaki sauce with vegetarian red curry added a subtle and enjoyable heat.
As another option, the steak from the Market Bar was juicy and melted in your mouth. Also, the addition of pineapple added an aspect of sweetness to a savory dish that worked very nicely.
For dessert, the Banana Wontons make the perfect ending to the meal. The presentation is beautiful and includes six wontons surrounding a heaping scoop of vanilla ice cream with various fruit scattered around the plate and topped with a caramel drizzle. Every aspect of the dish creates a balance and unity that make the banana wontons even more enjoyable.
The prices at Stir Crazy are not too bad either. With three meals, beverage, and dessert, my table's total was just over $40. When going to the restaurant Monday-Thursday, many deals are offered. Monday's deal includes two market bars with chicken or steak for $22, Tuesday's includes a free kids menu meal, Wednesday's includes half price wine, and Thursday's includes wok classics with chicken or steak 2 for $20.
Stir Crazy is similar to a hibachi style restaurant like Otani or Hibachi Steakhouse. These restaurants offer both options of ordering a meal from the menu or choosing to have your meal cooked in front of you. However, Stir Crazy allows a lot more freedom and interaction in their hibachi style foods by letting the customers choose every aspect of their dish, whereas Otani and Hibachi have predetermined selections.
Stir Crazy impresses their audiences with amazing food, a comfortable environment, and a truly authentic atmosphere. Junior Megan McNelly said, "The service exceeded my needs. My meal fulfilled my hunger and pleased my taste buds. Overall, I had a really nice time."