English 4 seniors host Human Library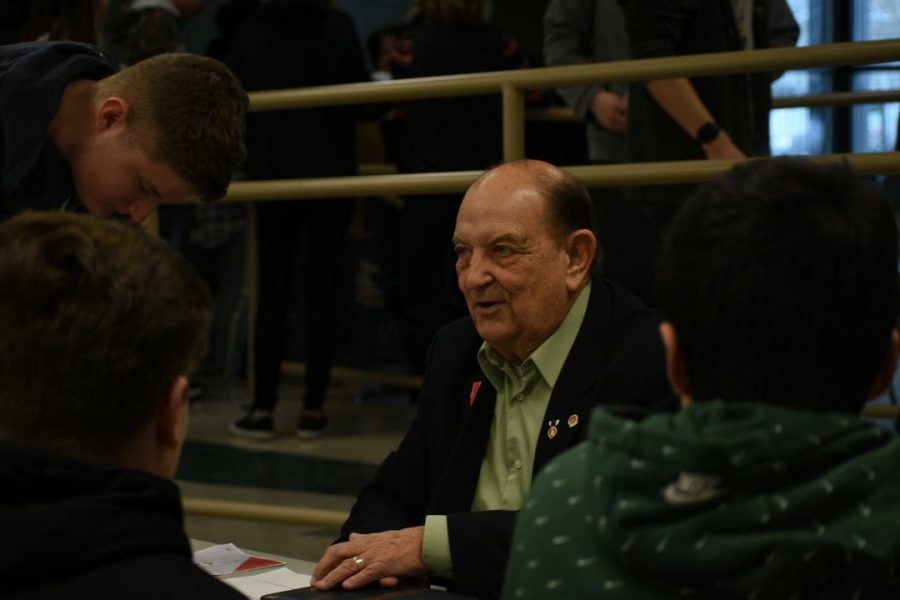 This past Wednesday, Alex Shaw and her English 4 seniors hosted a "Human Library" in the Senior Commons which brought together students, faculty, and members of the community.
Shaw helped coordinate the event as part of a classroom assignment. She said, "It was an opportunity where people volunteered; students, teachers, and some people of the community came in to act as human books because there was something about their life that was unique! We had a library catalog that you could flip through to read about the people and check them out like a book, and have a conversation."
The event took a lot of preparation, as this year seniors in Shaw's class had to learn workplace English skills. She said, "They had to apply for a job, and they were all in different departments with different jobs that worked together to help coordinate the event. We had a website and social media post to help promote the event."
Senior Ben Saneda helped create the catalog and had the chance to choose his manager, Dylan McCaughan, who shared how he got his career started. Saneda said "[McCaughan] is a great inspiration to me. He is the most interesting person I know, and I wanted people to see that for themselves."
Saneda wanted more people to connect with McCaughan like he has. "I was most happy that so many people liked the book I created for the library catalog and that the people who came out to the event found McCaughan as interesting as I do," said Saneda.
Seniors chose individuals that they felt had a great story to tell about their life. Some stories were joyful and others were believed to be inspirational, although Shaw admits the toughest part was acquiring the human books to volunteer. She said, "We started with over 40 people and ended with less than 30. So for next year, I am going to make it a grade for the students that they get people to show up so that it will hopefully keep people from backing out last minute."
Junior Chris Karum was selected to share a story of his life. He said, "It was amazing that people wanted to hear my story. I loved the opportunity I had to talk to people about my life. I hope that maybe I even inspire them to have the drive to work for something in there future."
Senior Issac Hatten helped with marketing the event. "The human library had a great first year," he said. "There is definitely room for improvement, but overall the first year went pretty smoothly. I had a lot of fun asking different people about their lives and getting to know them."
Shaw thought the project was a success. "I am most proud of my students [because] they really did a great job working on running it. I didn't do much to run it, [as] they made all of the decisions," Shaw said. "The coolest thing was seeing how kids view different people. People that I have known for years. I never looked at them like how my students did, and it was really special".