LTD prepares for upcoming holiday concert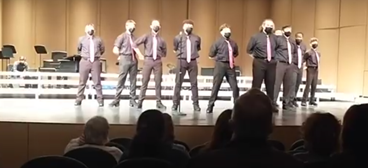 The Limited Edition (LTD) show choir is preparing for their upcoming concert after somewhat of a long break from rehearsals.
Brian Fancher, the music teacher who advises the singing part of the group, believes the group may have a lot to work on to get ready for the concert. He said in November, "A lot of it is going to be getting back into the groove because we had a little time off because of the musical and then likewise, we are going to have a little bit of time off because of Thanksgiving break and on top of that, we are going to try to add a new song to the mix; so really, all of those things will be working together as something that we need to focus on."
Fancher admits that breaks, like the five days off around Thanksgiving, can have an effect on the group's preparation. He said, "Honestly [it] probably had a very big impact, like I would not be surprised if we forgot a lot of the things and it might actually take until the week of the performance to get back to where we were before the break we took."
Sophomore Natalie Schreiber, a soloist in the group, also thinks it's important for the group to find its groove after the break. She said, "I will admit I did not go over any of the dances over the break."
With the concert upcoming, Fancher thinks the group's primary goal is to learn the choreography of the new song they'll perform. "We know it's been a few weeks of no rehearsal but we need more dancing because some of the new choreo might be hard to do plus the singing portion is going to be a little difficult."
The concert is scheduled for 7pm on Monday, Dec. 13 in the auditorium.