Wrestlers form close relationships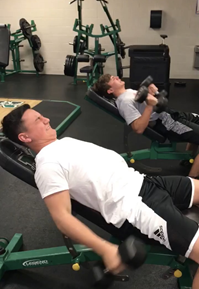 The wrestling team is bringing the athletes together and building bonds through the sport.
Head Coach Dwight Fritz said the kids that came back this year after Covid have been helping out. Fritz said, "They have become great team builders helping out the lower classmen. We are lucky that we have had a really good group of wrestlers this year."
The relationships between upper and lower classmen are very strong, according to Fritz. He said, "The team is very close, no matter what grade, because we do everything together. It doesn't matter what class you are in."
The positive relationships are built on the overnight hotel stays, as well as multiple bus and van rides to tournaments. Fritz said, "We talk about stuff outside of wrestling which builds a huge relationship. Everyone is super close and we try to know everyone's background."
Fritz also said at meets, the whole team can be seen and heard cheering for each other. "When the JV is wrestling, the varsity is cheering and when the varsity is wrestling, JV cheers them on. We try to get as many people on the floor for support without getting in trouble," Fritz said.
Senior Captain Antonio Madda believes it's important for the team to get along. Madda said, "It's important because you don't want any negativity within a team. Everyone needs to stay focused on winning and improving with no distractions."
Madda's relationship with underclassmen has grown over the past two years. Madda said, "I've met new people and have more friends because of the relationship I've built with them. The upperclassmen are leaders for the younger kids and give them someone to look up to."
Freshman Aiden Galatis has already noticed the team's closeness. He said, "We make up nicknames for each other, which build our friendship and everyone gets closer. We also play games in the room and talk to each other often."
Madda knows that the sport of wrestling creates inseparable bonds. He said, "Just drilling during practice with your teammates creates a bond that can't be broken. During tournaments, the team goes out to get food and just hangs out normally."
According to Galatis, the upperclassmen have been helpful to him and the younger guys. Galatis said, "They make sure we are all working hard in the rooms and are focused. They help us learn and most importantly strive for us to become successful in the sport."
After mostly wrestling duals in December, the team is now focused on competing in tournaments. Fritz said, "In January and February, we wrestle individual tournaments and help the kids get ready [for the state tournament]."