Three seniors commit to military
Danny Oleknovich, Deacon Shepard, and Greg Siambo.
These are the names of the three Mayfield High School seniors who officially signed service contracts with three different military branches last week.
Danny Oleknovich, a future member of the Army National Guard, says he was inspired to join the military due to his family's affiliation and background in the service. "My dad was in the Navy for six years and my grandpa was in the Air Force his whole life," he said.
Future Marine Deacon Shepard joined the armed services to follow in his parent's footsteps, as his dad served in the Navy. He said, "I've kind of known for most of my life that I was going to end up going into the military."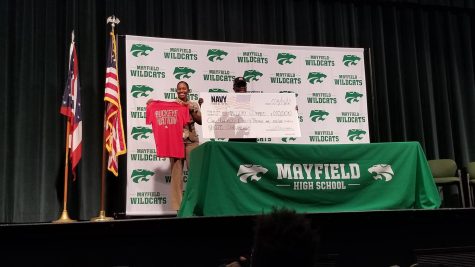 Greg Siambo, a future member of the Navy, said his dad and multiple other family friends in the Navy were the ones who encouraged him to join. He said, "I was a little hesitant at first, but I looked more into it, and it seemed like the right path for me."
As he nears graduation, Oleknovich is most excited about his upcoming training. He said, "I'll be training this summer in Missouri for about five and a half months, and I just think it's going to be a really great experience."
Siambo is most excited about attending OSU with his full-ride, $180,000 Navy ROTC scholarship and gaining the full college experience. "After that, becoming an officer I feel like will help me build upon my leadership skills. I'm most anxious about the lot of responsibility that comes with that leadership… but I believe I'm prepared for the task," he said.
As for why he chose the Marines, Shepard just really wanted the title. "I wanted to be a loud and proud Marine," he said.
Shepard is most excited about tearing materials apart as a mechanic. He said, "Blowing stuff up without getting in trouble will be nice. As for what I'm most anxious about… also blowing stuff up and getting blown up with it."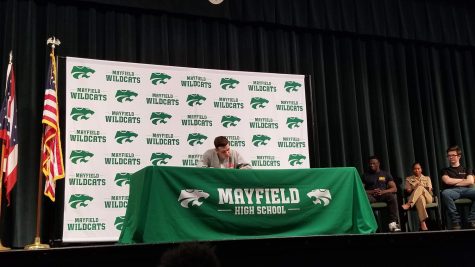 Oleknovich leaves for training June 1, and following his training, will most likely be attending a state university to study construction management or civil engineering. "With the National Guard, I signed a six year contract which pays for four years of college," he said.
During his upcoming time in the National Guard, Oleknovich has big goals following his initial Private First Class Rank. He said, "I'd say about a couple months after my training is over my set goal is to try and get to Sergeant and the highest I'd strive to reach for is probably Sergeant First Class."
Siambo hopes to reach rank 05 following automatic rank-ups within his first five years of serving in the Navy. He said, "There's rank levels 01 all the way up to 010… To reach 010, it'd probably take about 20 years."
During his future service in the Marines, Shepard hopes to reach a position as a Master Sergeant. "I believe this will probably be my career for the rest of my life," he said.
Siambo said he'll most likely review his contract after his term of service ends to figure out what's best for him. "You just never know what can happen. As of right now, I'm not planning to leave after that first contract expires, but if it comes to it, we'll see," he said.
Shepard believes there are a lot of reasons to consider joining the military— one of which being the benefit of a lot of expenses being covered. He said, "For example, if you join and live on base, everything is free— the only thing you have to worry about is maybe gas, if you have to bring your own car.
"You can literally save all your money during that four-year timespan where you're living on base with everything— housing, food, all of that — being free and you can easily make $100,000," Shepard said.
For those who lack a plan for their future, Siambo strongly recommends joining the military, specifically the Navy. He said, "You'd gain a set career path where you know what you're doing for the rest of your life rather than just lollygagging around, you know?"
Oleknovich would encourage others to join the military, as well. "I think it's a great new way to just unfold something new about yourself and the benefits are great," he said.
While Oleknovich and Shepard both leave for training straight this summer, Siambo won't leave for training until about two-years into his program at OSU. As for where they're going, Oleknovich's training will be in Missouri, Shepard's in South Carolina and Siambo's in Chicago on the Great Lakes.