Varsity football overcomes adversity, pressure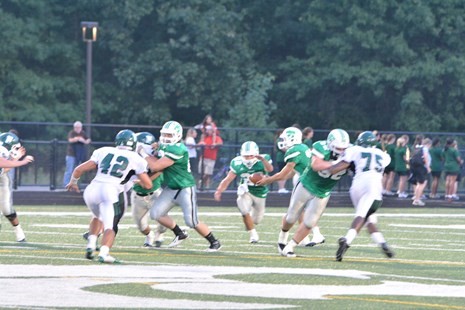 Hang on for a minute...we're trying to find some more stories you might like.
Cheering, excitement, tackling.
Every Friday night from late August until early November, the varsity football team dashed onto the field and put their all into a community favorite: the game of football. All of this support inevitably comes with lots of stress, tension, and pressure due to high expectations in the performance of the players.
Michael Pinto, an assistant varsity coach for the Mayfield football team. Pinto takes a positive side concerning the pressure put on varsity football. "We like when people have high expectations for us because we are able to stay focused and build off that positive momentum," Pinto said.
Pinto sees firsthand the efforts and determination of varsity players. "The kids we get to coach are so committed to our team. For some of them this is their last time they get to play an organized sport like this so they really leave it out there." said Pinto.
Offensive guard Emmanuel Betts firmly believes that being a part of this loved varsity sport comes with massive amounts of stress and having the whole community counting on them to win. "This town depends on you to win," Betts said.
Shamon Walker, another varsity player that plays on the defensive line believes that support from his teammates can always get the players through the stressful, rough-times. "My teammates really motivate me. I don't know, they just really pick you up when things get hard," Walker said.
Walker admits that pressure is inevitable on a high ranking team, but remains optimistic. "There's a decent amount of pressure, thinking that it's all come down to this and it's just between you and the other team…You just have to stay focused and in your zone," Walker said.
As a coach, Pinto helps the players to really give it their all and keep their eye on the prize, even through the grapple with high expectations. "We really try to focus on the end goal, play and do our best out there every night," Pinto said
With the massive amounts of stress that is placed on the team, the football team copes with the responsibilities they are given in all kinds of different ways. "I believe we do a great job of staying calm and fearless. We usually try to keep it simple and stay focused on the goals we set. Most of the time this helps us deal with the pressure and create a positive end result," Pinto said.
Betts believe the best way to cope with the extreme amounts placed on the team is to just keep going and to believe in the team. "You just have to keep pushing and trust the process and to keep going," Betts said.
The Mayfield community has always held the varsity team close to their hearts, offering the most support and attention. While the varsity team has lots of pressure and eyes on them constantly, they overcome the struggle by using the support from teammates and coaches, and projecting it into something better.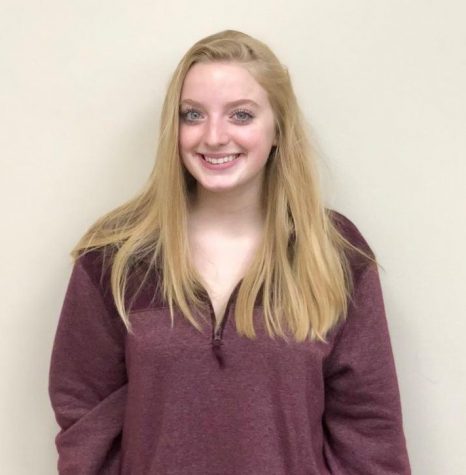 Emily Byrne, Staff Writer
Emily Byrne is a junior staff member at The Paw Print.

She has attended Mayfield since preschool and has been writing pieces of all topics and types...